Company events
Corporate celebrations in Salzburg Fortress - delight your customers and employees!
Salzburg Fortress offers you and your company the ideal venue for all special occasions. Take advantage of this Salzburg landmarks historic charm for your company. Capacity up to 240 persons.
Give your employees a celebration in an incomparable setting - the Salzburg Fortress. Whether it is horseshoe throwing, crossbow shooting, a medieval banquet or a musical program with an exclusive dinner, this popular highlight provides an entertaining and memorable event for your guests. When you treat your employees with one of these exceptional events in the historic Great Hall, you will raise their level of work. So the next fiscal year will be even better than the last!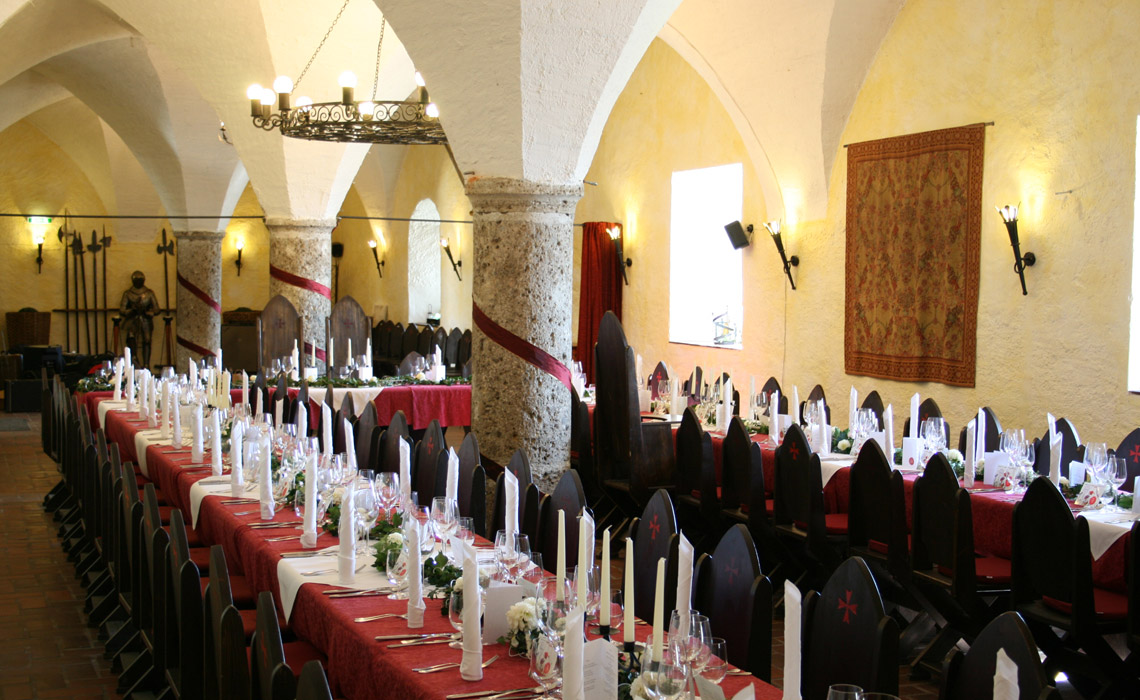 COMPANY OUTINGS AND SPECIAL GROUP OFFERS
Looking for an attractive programme for your company outing? Then look no further! Whether it's a big or small group, we'll gladly conjure up a tailor-made package for you. How about a panorama boat cruise to Hellbrunn with its world-famous trick water fountains, return journey with the historic English double-decker bus and then, after a compact guided tour through the city, going out with a culinary bang on the world-famous fortress in the evening. Or, you could opt for an archiepiscopal Round Table on the fortress; you'll forever remember this special welcome from the arch bishop. We're forever at your disposal, helping your with words and deeds - our many satisfied customers have been proof your many years. At all events, we guarantee an unforgettable experience!
Our advice:
Combine your Knight Meal with a 40-minute boat cruise on the Salzach with the "Amadeus Salzburg" panoramic jet boat or a ship cruise to the trick water fountains in the baroque palace of Hellbrunn, followed by a return trip unique and historic English Double-decker bus from 1964.